Wow and wow!!
I'm a featured blogger!!!!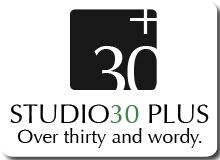 All I can say, is thanks to Studio 30 Plus for choosing me as "Blogger of the Week"!!!!!!!!
I'll do my best to keep-on-keepin-on for everybody!
And thanks for everyone else who dilligently reads my randomeness, along with anyone else who finds me along the way. I'm so humbled. And speechless. I must have a beer now.
Cheers!! :)